Large Format Printing in Surrey BC ...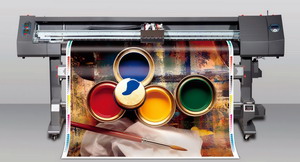 We bring you 20 years of experience in this specialized field, and have highly knowledgeable people you can talk to about your job- from posters and vinyl banners to trade show graphics and custom wallpaper. When you want your large format printing done perfectly- and on time every time- talk to us!

Our large format printing shop includes a complete prepress shop, 18 wide format printers of up to 60" width, and a complete finishing shop for laminating, mounting and computer cutting.
We have the skill, the systems, and the capacity to turn your job around quickly and affordably. We are large enough to have the right people and equipment to do your job well. We are small enough to give your job the personal attention to be sure it's done right. We are large format specialists, and it shows in our work.